'Truly a labor of love'
"Jam-packed with fascinating history and amazing illustrations from cover to cover!"
'An Admirable Tribute'
"Through sharing the rich artistic legacies of the Wallace-Berger family collection, you have truly kept the flame well-lit."
'A Herculean effort'
"...a great job of assembling a lot disparate material. What an amazing family!"
'310 beautifully produced pages'
Featured in the Oct. 23 edition of The Carmel Pine Cone.
'I am enjoying it immensely'
"You did a great job putting it together, picking a title, and selecting the sequencing. Nice work ...soon part of The Big Work."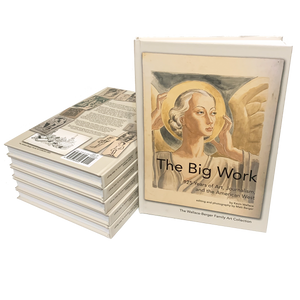 The Big Work
Sale price Price $99.00 Regular price $99.00 Unit price / per
The Manuscript
The Big Work features the unpublished memoir of Kevin Wallace (1918-1979), an American journalist and editorial cartoonist for The San Francisco Chronicle and Examiner newspapers, and 10-year staff writer for the New Yorker Magazine.
About the Authors
Featured Press
Historian Neal Hotelling writes a captivating 3-part series of columns about 'The Big Work' in The Carmel Pine Cone. Read all three installments including the first in the series: a profile of Moira Wallace: 'Lady Godiva rode a zebra and an artist became an empress.'
Read the series
Got a Carmel Art History Story to Share with Us?
Sign up for our email newsletter below to connect with The Wallace-Berger Family art collectors and share information about the artwork featured in "The Big Work."