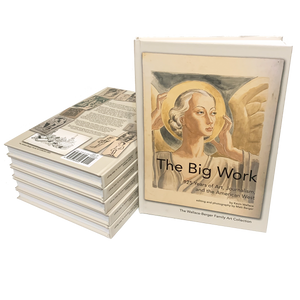 The Big Work
Sale price Price $99.00 Regular price $99.00 Unit price / per
TEMPORARILY OUT OF STOCK
The Big Work is a memoir four generations in the making that explores the untold story of the Wallace family, who lived and worked as artists and writers in Carmel, Calif., during America's most important periods of literature, fine art, journalism, and the occult.
Their story unfolds by way of a typewritten draft manuscript by Kevin Wallace that was last updated just before his death in 1979 when he was a reporter and editorial cartoonist on the city desk of The San Francisco Chronicle. Illuminating the family story is a 200-plus piece art collection of sketches, paintings, and illustration created by Kevin and his prodigy sister Moira, who took the San Francisco and Los Angeles art worlds by storm in the 1920s and 30s, but struggled to catch on in the art history books despite being considered one of the most talented women muralists, painters, and portrait artists of her time.
Kevin and Moira's father, Grant Wallace, is also a leading character, setting the stage for this unconventional family story. A famous writer, journalist, and War Correspondent during the turn of the century, Grant's misadventures took him around the world, participating in extraordinary moments in history from the front lines of the 1904 Russo-Japanese War, to the Australian Eucalyptus trade with his writing pal Jack London, to Ouija board séances with wealthy patrons from nearby Pebble Beach — and then documenting it all in published writings and illustrations.
The Big Work is brought together for modern-day audiences by Matt Berger, Kevin's youngest grandson. A writer and producer in Santa Cruz, California, Matt photographed, researched, and assembled his ancestor's vast body of work into this visually stunning book. 
BOOK DETAILS: 
ISBN 978-0-578-68460-4
311 pages, 200+ Color Photos and Illustrations, available in hardcover and softcover  

Published by The Wallace-Berger Family Art Collection, 2020
Made in the USA
ATTENTION: Please allow 14 - 21 days for your book to be printed on demand and shipped to your address.